COVID-19 "HEALTH FIRST"
First of all please know that Saint George Valsamitis Hotel is focused more than ever on the health and safety of our guests and our employees and partners as our top priority. Hygiene and cleanliness have never been more important to us. It is with your health and wellbeing in mind that we have made all necessary additions to comply with the Greek Authorities Instructions.Our "Health First" program includes safety and cleanliness standards in 3 stars hotels.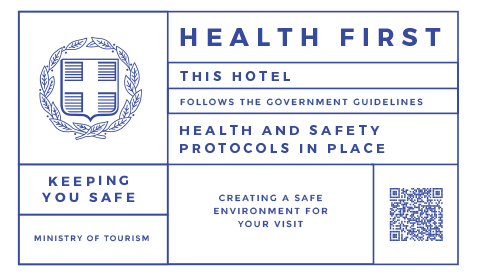 Stuff:
• The stuff is instructed to not come to work if they are not well and every day we take their temperature and verify they are well.
• We have frequent wellness and safety training and we stress the importance of wellness and strict adherence to our safety protocols. Our stuff can always inform you and give you all necessary information.
• Importantly, we value our health as well as yours – you can take comfort in knowing that our caring for the stuff recognizes the importance of their health before they interact with you.

Front Office:
• We have put in place enhanced safety practices at the front desk.
• We are minimizing your contact with personnel for check-in and check-out processes and we have placed plexi-glass divider to avoid direct contact.
• We practice social distancing by ensuring a safe distance for interactions, and we disinfect anything you will touch – from the front desk surface to the pens you use. Every key card is disinfected and sanitized with appropriate procedures.
• There is an addition of floor marking at a distance of two meters where the customer will stand and appropriate distance marking in the waiting area, proper arrangement of furniture and proper queue management in order to reduce waiting time.
• We can use POS machine for the payments, so we avoid the direct touch of money.
• We extend check-out and check-in between stays:Check out until 11.00 am Check in from 3.00 pmThis change in the time interval between each check in and check out is mandatory to ensure that between different customers the room is thoroughly cleaned and disinfected, as well as that adequate natural ventilation of the space is followed.
• The entrance is NOT allowed to all people who do not stay at the Hotel.
Housekeeping:
• We know that most of your time with us will be spent in your guest room. Prior to your stay, your room will be cleaned, sanitized, disinfected and closely inspected.
• Every guest room is cleaned and sanitized. Every guest room high touch point will be cleaned with chemicals aimed at killing the COVID-19 virus – door handles, light switches, a/c, desk areas, hangers, television remotes, alarm clocks, coffee makers, telephones and all bathroom fixture handles and touch points. Where you touch – it will have been cleaned with a focus on your safety.
• Hotel housekeeper will wear gloves and masks to ensure your safety as well as hers.
• Prior to your walking through the door to your room, all linens and towels products will have been washed in chemicals aimed at killing the virus, and at a high-heat temperature at which it cannot survive.
• Separate laundry areas are used for clean linens and towels to prevent cross-contamination, and all laundry are disinfected daily. All laundry facilities and equipment are routinely inspected with only approved cleaning chemicals used.
• Additionally, knowing you want to practice safe social distancing, cleaning of the room during your stay will be only specifically requested from the day before – and if requested the guest must leave the room.
• If you request change of linen and towels, you have to ask it from the day before and they will be provided through minimum personal contact – we can leave them in the room when you are not there.

Lobby & Public Areas:
We have removed lobby items that in the past would have been shared by guests (such as magazines and books) and we have established strictly enforced cleaning schedules for lobby furniture and fixtures. We have hand sanitizing stations in lobby and all service areas. Public areas, restaurant, bar, lobby and swimming pool will be cleaned on closely-monitored schedules using disinfecting chemicals.

Saint George Valsamitis Hotel is a family-owned hotel and the stuff is working here for many years. We want you to know that we truly care about you, your family and your health. We stand ready to provide you a safe, clean home away from home as "Health First" is the new standard.

Coordinator for the action plan of Saint George Valsamitis Hotel: Petros Theologitis
e-mail: hotelvalsamitis@hotmail.gr
tel: 00302285071228